The imposed lockdowns are for our ultimate good, as health and safety takes precedence over all other matters. However, at the same time it is important that we don't let the virus demoralize our spirits and disrupt our lives.
As I write this blog, the entire world is in the throes of the COVID-19 a.k.a Corona Virus pandemic. Each passing day, the deadly virus is claiming the lives of thousands as it spreads its deadly tentacles across the entire planet. Lockdowns have been imposed in many countries around the world in order to curb further transmission of the disease thereby, bringing life to a standstill.
Europe, the continent where I reside, has been the worst-affected continent and has become the new epicenter of COVID-19, eclipsing China, from where the outbreak originally started. Schools, colleges and universities have been indefinitely closed, and all major businesses have taken a major toll in the wake of the ongoing crisis. There is fear, panic and despondency all over. However, even in these testing times, we must not lose hope and must work in liaison with each other to combat COVID-19.
For doctoral researchers like me, the ongoing crisis entails that all research work must be shifted to home, for an unforeseeable period of time. This can have a major effect for researchers working in practical fields such as Electromagnetic Compatibility (EMC), where experimental work is as important as modelling and simulations which can be done via telework. In fact, I was in the middle of conducting some experiments in the EMC lab of the University of the York as part of my MSCA ETN SAS secondment in the UK, when the decision was taken to close off the University premises due to the worsening situation.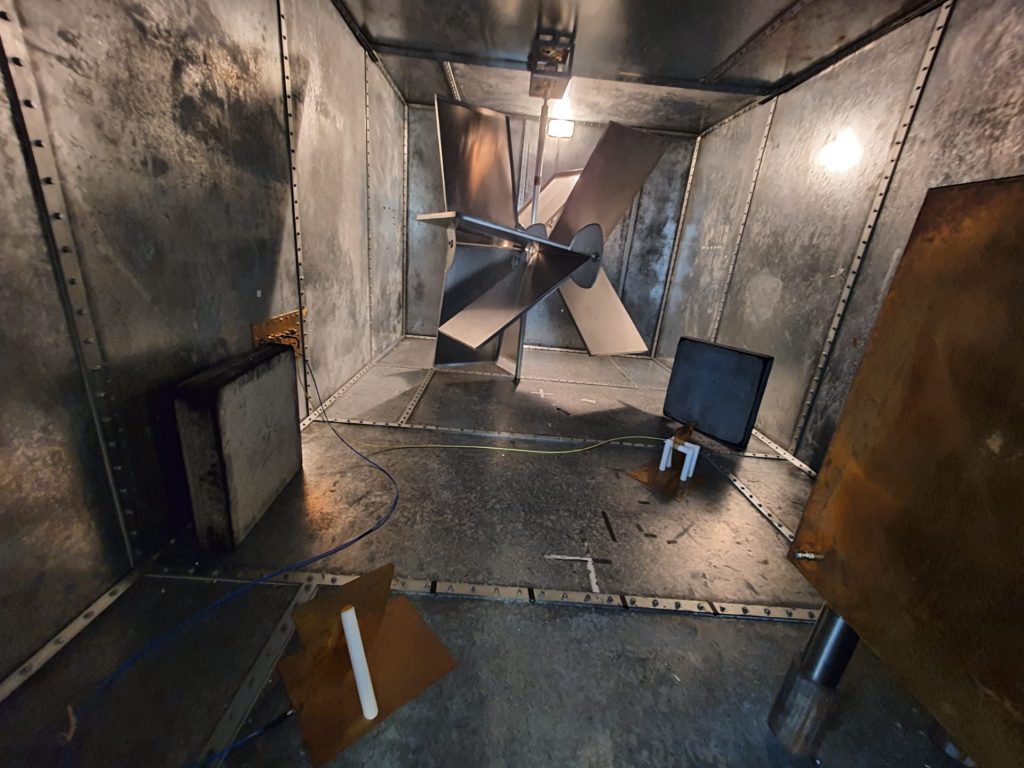 Fig. 1: University of York's reverberation chamber where I was conducting experiments.
Although, I miss the experiments that I was conducting, I do realize that the imposed lockdowns are for our ultimate good, as health and safety takes precedence over all other matters. However, at the same time, it is important that we don't let the virus demoralize our spirits and disrupt our lives. In order not to let the current gloomy situation affect me, I chalked out activities which can help me utilize my time in the best possible manner.
Setting up a home workstation
The foremost step for effective teleworking is to create an office like environment at home.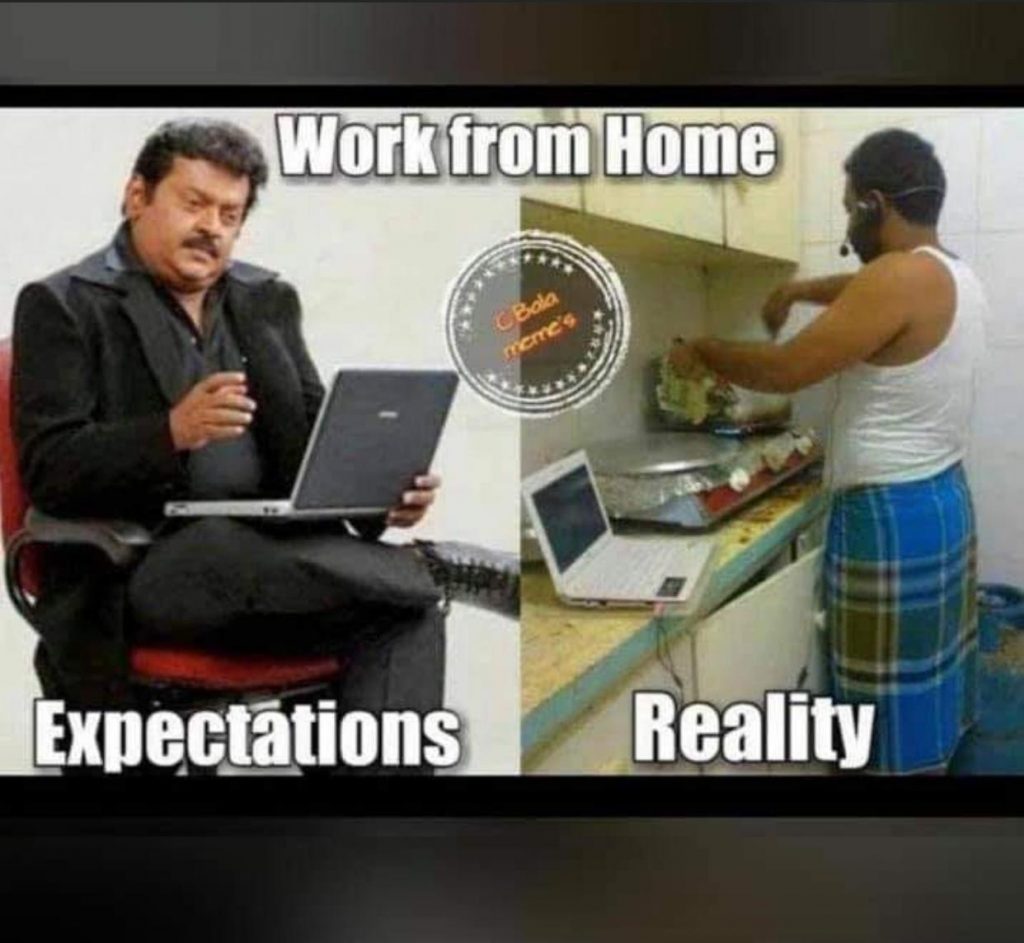 Fig. 2: Gap between expectation and reality while teleworking.
Often, we are distracted quite easily (like the guy in the meme) while working from home even when we solemnly plan a rigorous day of work. To avoid such a scenario, I set up my home workstation and ensured that I have all the facilities at my disposal in order to do effective research work.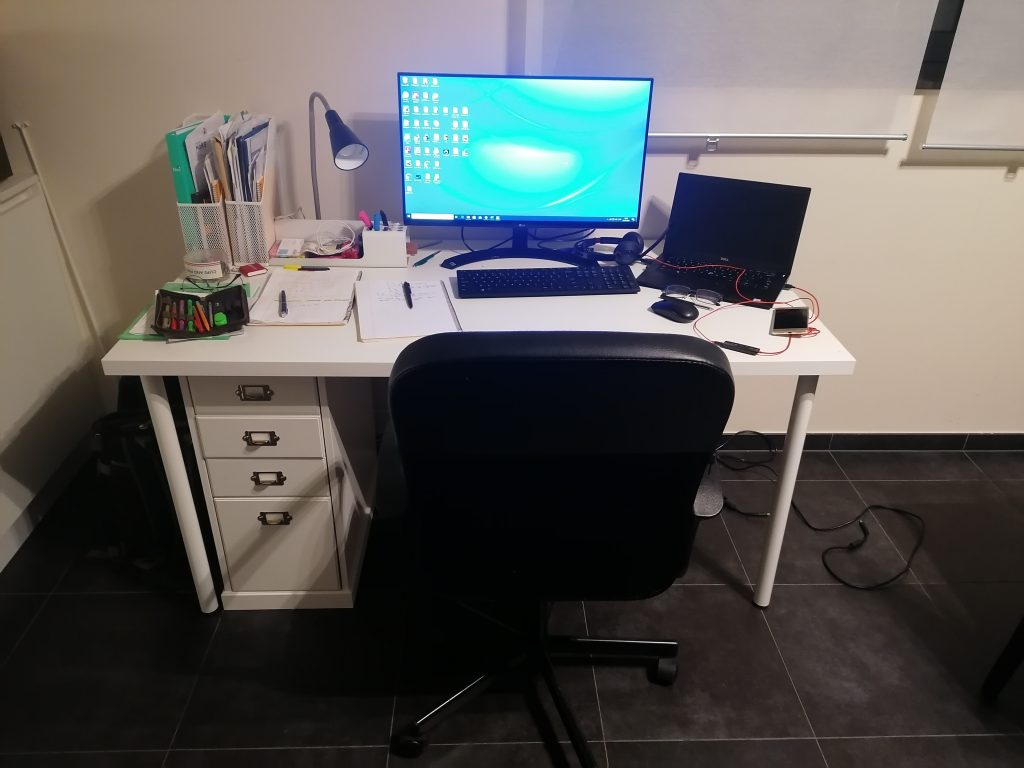 Fig. 3: Workstation at home.
Enhancing my skill set
I had earmarked several Massive Open Online Courses (MOOCs) which I considered good to enhance my technical skillset but never got enough time to follow due to other commitments. Now I feel is the right time to follow some of these courses in detail. I'm particularly interested in learning more about machine learning algorithms and their applications as it forms the backbone of many Artificial intelligence (AI) based intelligent systems. It also is a very handy and sought-after skill and I would love to have it in my repertoire of competencies.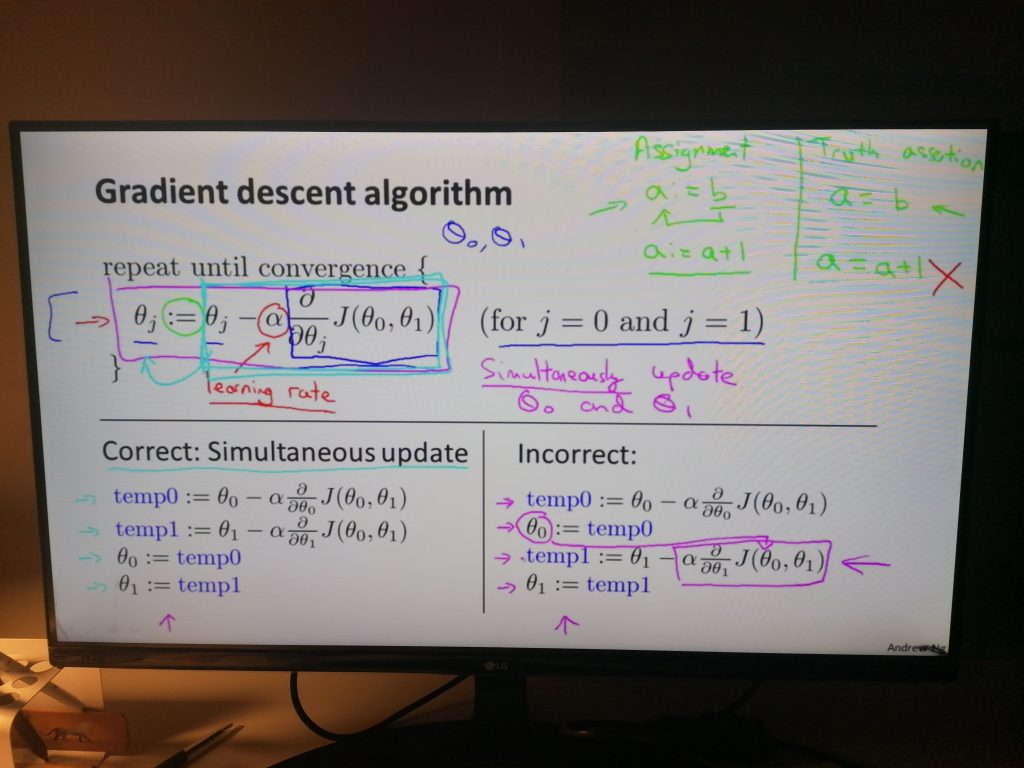 Fig. 4: Started with Coursera's machine learning specialization offered by the University of Stanford.
Book reading
Staying at home provides me opportunity to fulfil another passion i.e. book reading. Now it is the perfect opportunity to feed my voracious appetite for book reading from disparate disciplines such as technology, literature, history, religion and philosophy etc. I find it a fitting escape from the fearmongering and media-hype around Corona Virus which is ubiquitous these days.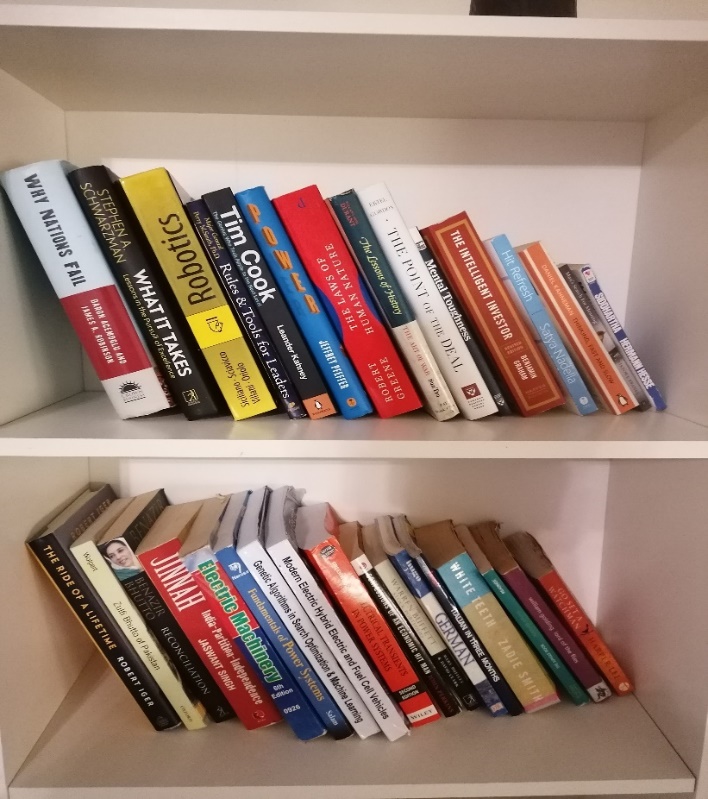 Fig. 5: To read list of books in my bookshelf.
Recreational activities
Some sort of recreational activity is also necessary to have a balanced life. Since outdoor facilities such as fitness centers and sports clubs are temporarily closed, I've chosen chess as an alternative. Replacing physical exertion with mental exercise, I find it an excellent pastime to escape boredom and kill time.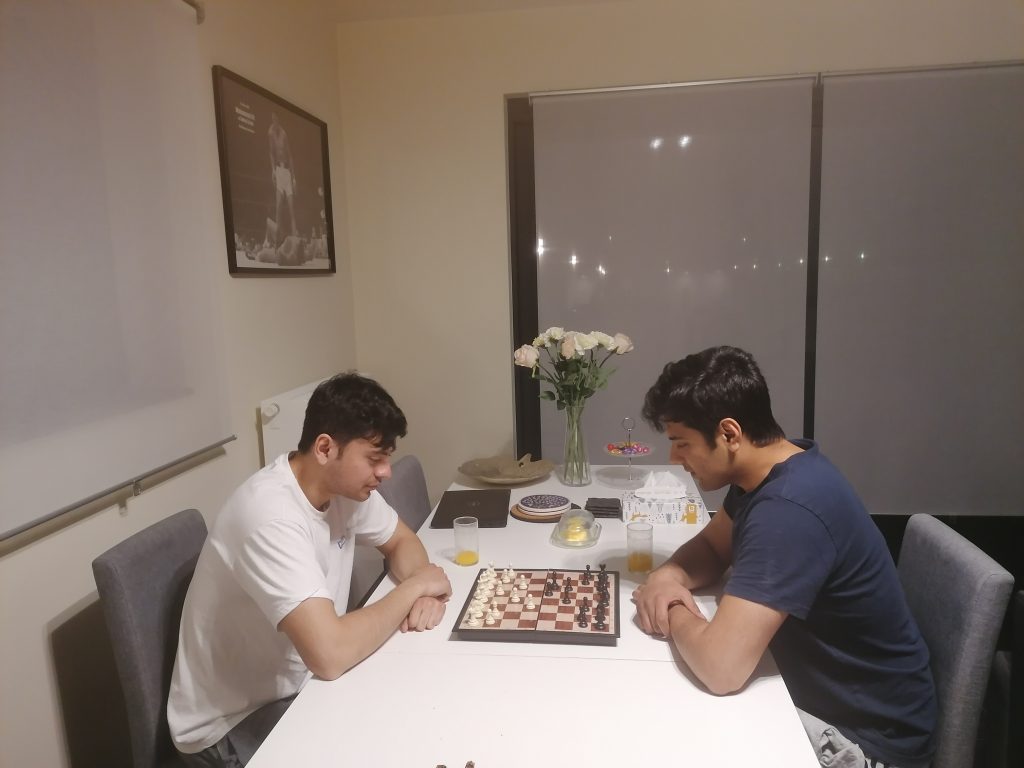 Fig. 6: Best quarantine pastime.
Cooking
Lastly, staying home all day, I'm trying also to bring out the chef in me by excelling in culinary art. Trying all sorts of traditional 'desi' Pakistani dishes as well as exotic cuisines.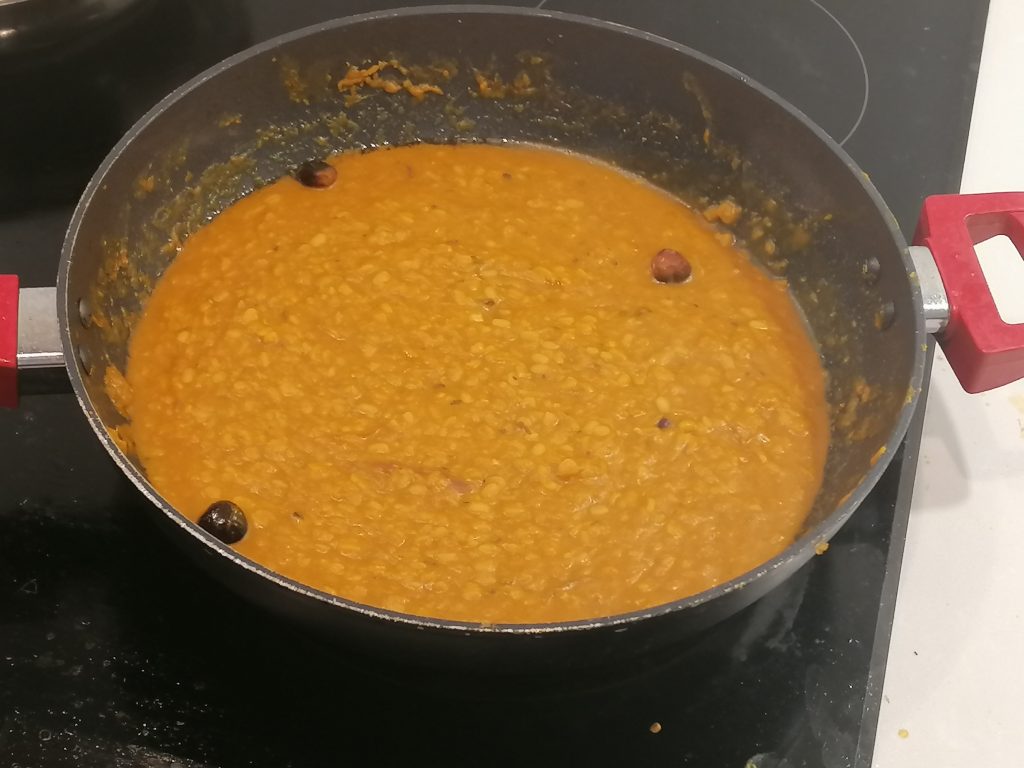 Fig. 7: Shahi daal prepared by me.
Conclusions
I hope the situation returns to normal as quickly as possible so that we can resume our normal lives. In the meantime, however, I find it useful to turn this stressful time to my own advantage by pursuing some of my passions, for which in normal routine I wouldn't have be able to allocate enough time. I hope all of you can draw some inspirations from my new COVID-19 routine and I look forward to hearing from you how you are dealing with the pandemic.
Last but not least, I would like to extend my heartfelt condolences to the families of those who lost their lives to this pandemic and wish speedy recovery to those who have been infected.
About the Author: Hassan Tirmizi
---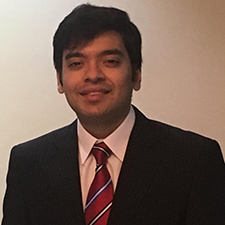 Hassan Tirmizi completed his Bachelor's in Electrical engineering from Pakistan in 2015 specializing in Electrical Power Systems and Renewable energy. He subsequently joined the joint EU funded Masters program in Sustainable Transportation of Energy and Electrical Power Systems (EMMC STEPS) as an Erasmus Mundus Scholar and spent a semester each at the University of Nottingham(UK), University of Oviedo(Spain), and the Politechnical Institute of Coimbra (Portugal). Since 2019 he is working as an Early Stage Researcher on the Marie Curie Horizon 2020 European Training Network on Safer Autonomous Systems at KU Leuven, Bruges Campus.