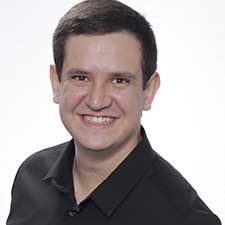 João Vitor Zacchi is an Early Stage Researcher of the Marie Skłodowska-Curie Actions under the ETN-SAS Project. His project topic is the "Dynamic Safety Handling of Autonomous Systems-of-Systems with Run-time Safety Contracts". He will be working collaboratively with other members of the team while carrying out this research at Fraunhofer ESK, Germany.
João graduated in Control and Automation at the Federal University of Santa Catarina, Brazil. He obtained his master's degree in Electrical and Automation Engineering at the Toulouse Polytechnic Institute, France. For his master's degree project, he developed code generators based on UML models to automate the testing on the adaptive layer of the ISIS project for the French space agency, the CNES.
João's key interest is how to quantify and model safety assurance in systems with ever-growing autonomy and complexity.