At the LAILEC conference, taking place on 29th and 30th of March 2022 in Leuven (Belgium), there will be a dedicated SAS event!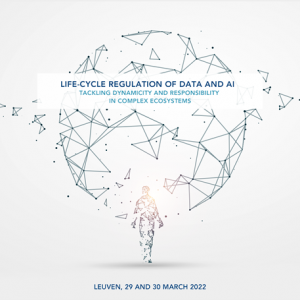 This year's edition of the LAILEC Conference, co-located with the EUH4D Data Forum and the SAS Project Event, focuses on Data and AI, together critical enablers for our society to solve complex problems and for our European data economy to thrive. Both data and AI have specific lifecycles, where dynamicity and evolving features challenge legal and ethical frameworks.
The conference aims to discuss the objectives of the European Data Strategy and AI Strategy, and will explore further the regulatory and governance dimensions of a.o. the concepts of data spaces and trustworthy AI. LAILEC aims to engage on these topics with a broad community of stakeholders (researchers of different disciplines, industry, designers of data spaces, providers of building blocks -technical and non-technical-, policymakers, regulators, civil society,..). The objectives of fair, compliant, trustworthy data use and AI (and related technology) applications can only be achieved by interdisciplinary efforts and the involvement of a broad range of stakeholders.
On the afternoon of the 30th of March, the dedicated half-day SAS event will help explore the technical, ethical and legal challenges raised by the development and deployment of autonomous systems. Three keynote sessions will guide us through these challenges and will provide insights into some of the solutions.
Registration for the LAILEC conference and SAS event is now open.
Special thanks to Orian Dheu (ESR15) for organizing this SAS event!