The KU Leuven Centre for IT & IP Law is organizing the second edition of its Leuven AI Law & Ethics Conference (LAILEC) – #LAILEC2020. The event will take place on 18 February 2020 in Leuven (Belgium).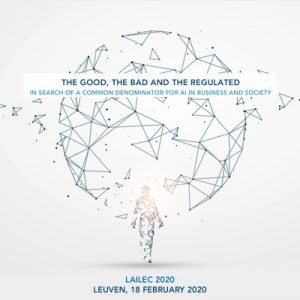 The conference aims to gather researchers from multiple disciplines, incl. law, philosophy, political and social sciences, computer sciences to discuss the contemporary legal, ethical, regulatory and governance challenges of artificial intelligence.
The overall theme of the conference is "The Good, the Bad and the Regulated – In search of a Common Denominator for AI in Business and Society". The conference will explore the challenges regulators and legislators, businesses and society are going to face regarding AI, through the two use-cases of Industry 4.0 and the health sector, putting an emphasis of the overall commitment of EU towards the UN Sustainable Development Goals and international business and human rights standards. The conference will discuss regulatory sandboxes, horizontal supply chains, digital twins, enhanced healthcare, mandatory human rights due diligence for the business, and other topics.
Registration and more information can be found on the dedicated webpage: https://www.law.kuleuven.be/citip/en/lailec-2020
Feel free to contact Orian Dheu (ESR15) for further inqueries.